As we start to prepare videos that will help reduce traffic congestion, accidents and fatalities, I thought it important to create a post that shares all of our social networks.
Joining and following along on multiple platforms is how you can play a strategic and important role in helping evolve society's driving standards. Not only can you impact the lives of those around you, a simple 'like' or 'share' can also help save a life across the country or around the world!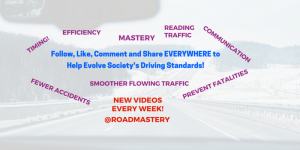 Here are all of the current platforms to join us on.
Facebook
YouTube
Twitter
Pinterest
Instagram
Thanks for joining us on this journey! I look forward to providing you and the world with valuable, empowering content.
Drive Smart
Academy Of Road Mastery