AcademyOfRoadMastery.com is proud to announce that for four days, this coming Sunday to Wednesday (April 29 – May 2, 2018), 'How To Get Better Than Your Estimated MPG/KPL; The 9 Elements to Mastering the Art of Efficiency that Prevent Millions of Accidents and Saves Lives Daily!' will be available for FREE on Amazon.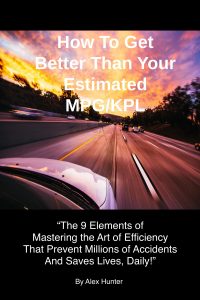 The goal is to give-a-way at least 1,000 copies to driving professionals, enthusiasts and engineers in order to start a driving evolution and to generate Amazon reviews. Both of which will enable others to get their hands on it, thus empowering them to take their efficiency and safety to a new, much higher level, which society as a whole will benefit from.
With your help (by leaving a review and discussing the knowledge), many people will for the first time understanding the true cause (and cure) of traffic congestion. …It is one of the main elements to increasing efficiency and preventing many accidents, yet it's rarely understood or taught. Soon, many people will be taking positive actions to avoid, prevent and eliminate it, rather than unknowingly creating it.
So, mark your calendars for this coming Sunday and prepare yourself for a one-of-a-kind experience. I promise that much of this is new, ground-breaking information that is deeply integrated and beneficial to mankind.
With that said, once you see the value in it, I welcome you to leave an honest Amazon review so that others can benefit, too. Just as with 'when out on the road', each of our actions can have a profound, far-reaching affect that we never realize. …You could very easily help save a life or prevent an accident simply by discussing the concepts or leaving a review.
And feel free to plug your driving school, car club or business.
(…I almost forgot to mention, great care went into writing this book for a global audience. It accommodates miles per gallon and kilometers per liter, driving on the left and right side of the road and with the driver seat on the left or right side of the vehicle. So, it should apply no matter what part of the world you're in.)