Each of these 9 Elements play an important part in knowing 'how to get better than your estimated miles per gallon/kilometers per liter'. Not only do they increase fuel efficiency, each also plays a part in increasing overall safety and preventing accidents and fatalities.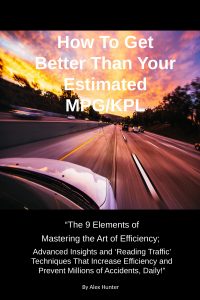 This is taken directly from the Table of Contents of How To Get Better Than Your Estimated MPG/KPL: The 9 Elements of Mastering the Art of Efficiency That Prevent Millions of Accident And Saves Lives, Daily!
Also included below is Part II of the T.O.C. which is about how we can individually help others be safer, happier and more efficient, behind the wheel. And by doing so, we ourselves can become even more safe, happy and fuel efficient.
>>>
Dedication
Mission Statement
Introduction
Part I: The 9 Elements to Achieving Maximum Fuel Efficiency
Element 1: Belief – "Do you know why you believe what you do?"
Element 2: Maintenance – "The second biggest reason why many don't achieve their EMPG/EKPL."
Element 3: Sweet Spots – "When was the last time you reached for your sweet spot?"
Element 4: Advanced Reading Traffic Skills and Techniques – "The more you can see, the more you can save."
Element 5: The Root Cause of Traffic Congestion – "Be on the lookout for 'Ude'es everywhere!"
Element 6: The Art of Avoiding, Eliminating and Preventing Traffic Congestion – "The art that saves lives, time and money!"
Element 7: Communication – "The question isn't 'if you communicate, or not'. It's 'what do you communicate?'!
Element 8: Timing – "Timing isn't everything, but it can definitely increase your fuel efficiency and save your life!"
Element 9: Appreciation for Momentum – "From start to finish!"
PART II: For Others… "It's not always all about you (or me)!"
-Out on the Road
-Those in our Life
-Across the Country and around the world
-Special Offer and Request
(Please take special notice of the offer to help share this 'Around the World' and raise millions for worthy charities.)
Bookmark Bonus: "9 WAYS THAT EFFICIENT COMMUTERS ACT AND THINK DIFFERENTLY THAN THOSE ON AUTOPILOT!"
>>>
As you may have noticed, this fuel efficiency driver's guide is about a lot more than just increasing your fuel economy (miles per gallon/kilometers per liter). It's a book about increasing over driving skills and driver education. It's about taking personal responsibility to a much higher level in order to significantly reduce the probability of creating traffic congestion or getting in an accident.
As a matter of fact, many of the tips and techniques do prevent millions of accidents and save thousands of lives, every day! I'm positive that you've already used many of them to do just that.
If you haven't yet, do yourself and your family the favor of getting your Kindle e-book. (Physical copies will be available soon, at twice the price.)